Sacramento Street Store
A letter from our CEO regarding the retail store closing and DayOne Baby continuing forward as a corporate services company
Dear DayOne Baby Store community,
Our company has found a tremendous welcome and swiftly growing business in the corporate world delivering premium lactation and early parenting support services through the HR and Benefits departments of major corporations such as Microsoft, AirBnB, Salesforce.com, Netflix, Sephora, The Golden State Warriors and many more excellent and forward-thinking corporations and institutions.
Because of this, after much thought, we have come to the understanding that our future as a company will move away from the brick and mortar format and take the core principles and values that have always driven us, applying them through our corporate services channel with some virtualized online services available to consumers. This allows us to touch many more families with the work we do.
Therefore, on June 16th we will be closing our brick and mortar location and moving into our corporate-only offices where there will be no consumer facing services. The new address is: 2 Embarcadero Center, 8th floor, San Francisco, CA 94111 This is a bittersweet moment for all of us as a team because, while we are beyond excited about the enormous arena we will be focused on, we will miss being with you day by day as you raise your babies. It's been an honor to work with you all, and we look forward to connecting in new ways in the future.
Below is an FAQ on what you may need to know and an email address you can contact our team with any additional questions.
All the best,
Esther Kestenbaum, CEO DayOne Baby
Final day for retail: June 16th
Store Address: 3548 Sacramento Street, San Francisco, CA, 94118
Retail Store Hours
Mon: Closed
Tues, Fri: 10am-1pm
Wed, Thurs, Sat: 10am-5pm
Sun: 12pm-4pm
Phone: (415) 813-1931
Email: info@dayonebaby.com
FAQ regarding the store on Sacramento Street
We understand many of you have questions regarding the closure of our Sacramento Street store. We'll do our best to address those concerns in this FAQ. If you have any additional questions, please contact us at info@dayonebaby.com.
The Store
Our Spring retail hours will continue through Saturday June 16th. All sales beginning today are final sales.
Gift Cards
Gift cards and store credits may be used towards retail purchases or classes through June 1st.
 
Perkville Points
For those of you enrolled in our customer loyalty program, points will no longer accumulate after Wednesday, May 23rd.  
 
Breastpumps
If you are currently renting a hospital-grade breastpump from us, you may continue to do so. We will be available through June 26th to accept returns at the Sacramento Street store location during limited hours. Starting July 1st, pumps can be dropped off or shipped to our new corporate address: DayOne Baby, 2 Embarcadero Center, 8th floor, SF, CA 94111. We will no longer be renting pumps beginning June 1st.
  •   Medela rentals available at Newborn Connections at CPMC (415.600.2229)
  •   Medela & Ameda rentals available at Great Expectations at UCSF-Mt Zion (415.353.2667)
 
Donation Drop offs
The last day for donation to Help a Mother Out or Homeless Prenatal will be Friday, June 15th.
 
Lactation Consultants
We will continue to offer virtual online appointments. (Contact us for contact information.)
  •   Ocean Berg
  •   Ami Burnham
  •   Jennifer Suffin
Classes
Already scheduled classes will run through June 26th. If you are currently enrolled in a Baby Sign Language, SuperSoccer Stars, or Mommy & Me series, you will still be able to complete the six sessions as planned. Local resources for parenting education and breastfeeding support groups include, Newborn Connection at CPMC, Great Expectations at UCSF Mount Zion, and Natural Resources.
 
Instructors
We are working to expand our classes to virtual instruction, but in the meantime, many of our current instructors offer private classes. (Contact us for contact information.)
  •   Ocean Berg (Breastfeeding, Newborn Care, CPR)
  •   Ami Burnham (Childbirth)
  •   Sara Duskin (Parenting support)
  •   Susan Norris (Infant Massage)
  •   Susan Schmitz (CPR)
  •   Andrew Skewes-Cox (music)
  •   Callie Stemerman (Sleep)
  •   Clare Demberger (baby/toddler play)
We want you to know how rewarding our time has been with all our amazing new families. You've made coming to work everyday a true joy for us and we'll miss you.
---
We're expanding our Workplace Services
New DayOne Baby Corporate Offices
2 Embarcadero Center, 8th floor, SF, CA 94111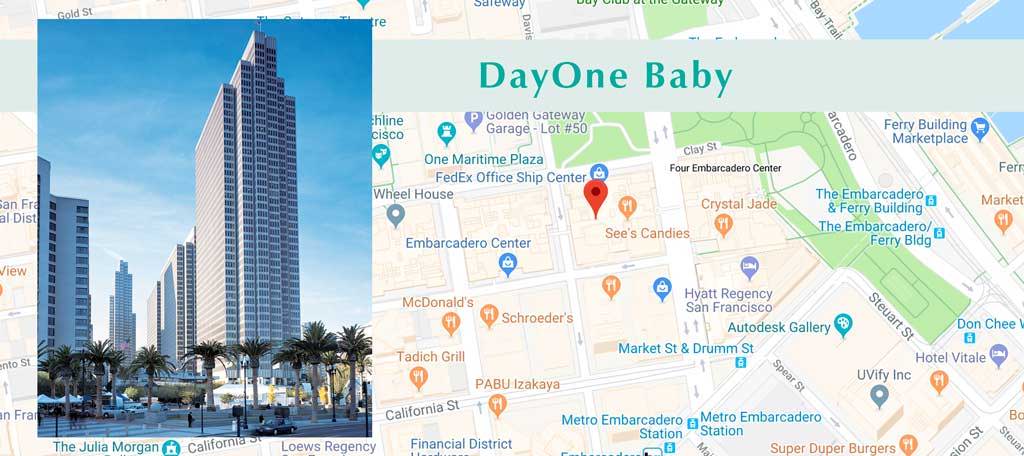 A few of our corporate clients...